When it comes to furnace Repair Vancouver, furnace service in Vancouver, or furnace replacement in Vancouver, our Heating Service technicians are 24/7 available. Our certified and experienced furnace repair technicians can diagnose all furnace makes and models and get it fixed.
An emergency furnace problem can be any time! we are always available to repair, service, or replace your gas furnace in the city of Vancouver all of our furnace repair service technicians are fully trained and certified under BC safety authority
We do repair,service all makes and models like American standard , Goodman  and much more ! see all furnace makes and models that we are dealing with from list below.
Heating systems are very important in today's world. Heating systems help us to have access to hot water in addition to heating the home. This is why we want to talk about furnace repair in Vancouver in this content. Furnaces are known as one of the most popular heating products that can satisfy your need for warming home and hot water.
The country of Canada and the city of Vancouver have relatively cold weather, and this makes the need to use furnaces to be more felt. Anyway, in the rest of this article, we intend to talk to you about furnace repair in Vancouver and the services that can be provided in this field. If you are looking for specialized services for furnace repair in Vancouver, we suggest you follow us to the end of this content.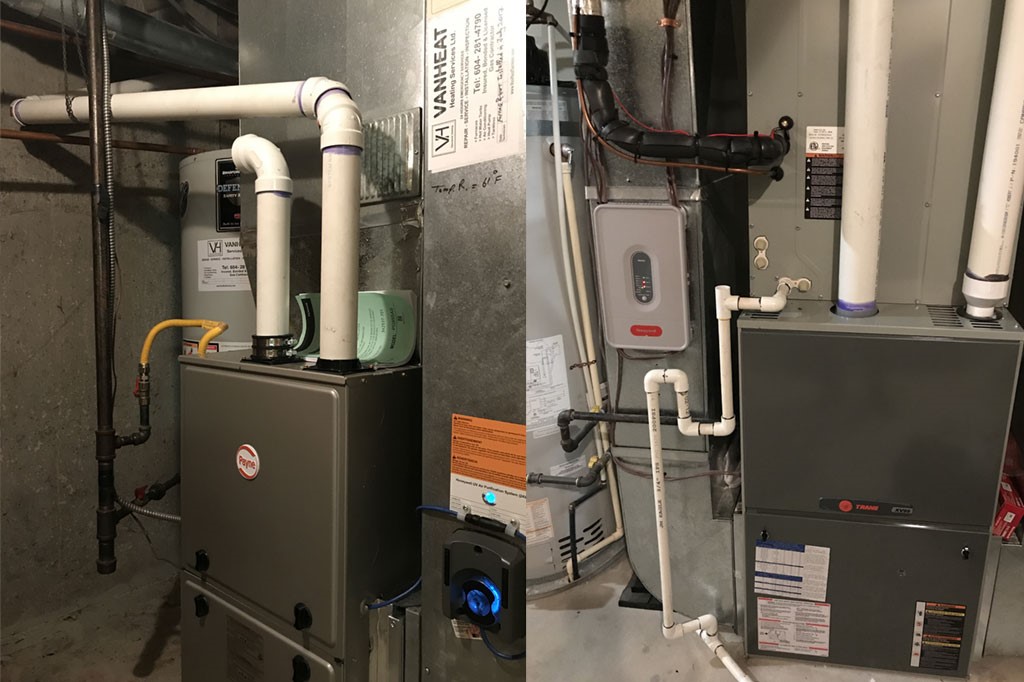 Gas furnace efficiency
Before looking into furnace repair in Vancouver, it's a good idea to provide you with complete information about gas furnace efficiency. When buying gas furnaces, the factors that should be taken into account include the efficiency of the gas furnace, its price, the manufacturer's brand, the quality of construction, etc.
The efficiency of the gas furnace will help you to understand which product with which capacity is the most suitable option for your home. Usually, according to the coldness of the air, the size of the house, and your need for hot water, it is determined which type of furnace with which capacity is the most suitable option for you.
American Standard Furnace Repair

Lennox Furnace Repair

Goodman Furnace Repair

Trane Furnace Repair

Bryant Furnace Repair

Airco Furnace Repair

Ruud Furnace Repair

General Electric Furnace Repair

Amana Furnace Repair

KeepRite Furnace Repair

Ducane Furnace Repair

Rheem Furnace Repair

Payne Furnace Repair

Ameristar Furnace Repair
With gas furnace service, you can find the smallest faults in gas furnaces and take necessary measures to fix them. Specialized service providers can help you identify all the defects in the furnace and prevent them from spreading.
The process of furnace repair in Vancouver, just like the repair process of any other appliance, requires sufficient expertise and experience. That's why we suggest you go to specialized service providers to repair and fix the problems in the furnace.
If you want to install a gas furnace for the first time, you should go to specialized service providers. These service providers can advance the installation process well at first so that you don't have any problems during use.
Gas furnace Cleaning
To clean your gas furnace, you can take the necessary steps according to the existing instructions. To prevent damage to different parts of the furnace, it is better to go to specialized and active service providers to use these services.
Companies that are active in the field of furnace training in Vancouver can advance the process of cleaning your furnace with more expertise and prevent the occurrence of severe problems to a great extent.
Furnace repair Vancouver : we carry all furnace parts in our Vans
 There are several electrical and mechanical Parts involved during furnace operation, all these furnace parts are working together to heat up your furnace.
If one of these parts breaks down your furnace will not work, we as a furnace repair and furnace service company always carry all furnace parts in our fully stocked vans.
 If your furnace has defective parts we do have those parts for sure, as we are dealing with all furnace makes and models you don't have to wait for parts to come in from the manufacturer .
 See all furnace parts from the list below that we carry  them all the time.
Filters

shafts

capacitors

condensation pump

control board

belt drive motor

Direct Drive Motor

Blower
thermocouple

pilot Assembly

Gas Valves

Fan limits

Inducer Fan

Pressure switch

Surface Ignitor

flame rod Sensor
Furnace repair Vancouver : furnace inspection and maintenance
There is a lot to say about furnace service inspection benefits,that hat needs to be done on all gas appliances but we will try to keep it  as short as possible.
 First of all is safety when you are dealing with natural gas. 
You are not allowed to make any mistakes because the first mistake can be the last one! because it can blow up your house.
  When you hire a certified gas contractor to do an annual service and inspection on your gas furnace,  you need to ask them to give you a full inspection report.
 Gas leak check and carbon monoxide leak check are the most important checks during furnace inspection.
When you do annual service and inspection on your furnace  our technicians do carry an inspection sheet.
 They will check all parts that need to be checked on your furnace, by doing this checkup if there is a part that
is going to cause a problem on your furnace, our technician will mention that to you.
  They will either change that part or at least they will let you know that that  part is going to be problem in the future and you will not be surprised by breaking down your furnace.
List below is our furnace maintenance and inspection sheet
Adjust the fan blower as required.

Lubricate the motor.

Inspect the venting system.

Perform a venting spillage test

Replace or clean the filter.

Perform temperature rise and adjust the motor speed as




necessary.
  Sufficient combustion and ventilation air Check

Check for 1-stage and 2-stage gas pressures.

 Pressure switches and inducer motor test

Check the thermocouple, flame rod sensor and surface igniter.

 thermal disks.

Check condensation system and pump.
Furnace repair Vancouver : see the full furnace operation sequence on this video 
Furnace repair Vancouver : we travel all greater Vancouver for furnace repair and services
It doesn't matter which city are you in from the list below, our technicians do travel to all cities listed below.
For doing furnace service, furnace repair, furnace inspection and furnace replacement we do reply to all emails and phone calls right away and having our furnace technicians will just take 30 minutes. 
We travel to all cities listed  below

Furnace Repair Vancouver

Furnace Repair Burnaby

Furnace Repair Pitt Meadows

Furnace Repair Coquitlam

Furnace Repair Ladner

Furnace Repair Port Coquitlam

Furnace Repair New Westminster

Furnace Repair North Vancouver

Furnace Repair West Vancouver

Furnace Repair Tsawwassen

Furnace Repair Delta

Furnace Repair White Rock

Furnace Repair Richmond
Furnace Repair Surrey

Furnace Repair Port Moody

Furnace Repair Mission

Furnace Repair Maple Ridge

Furnace Repair Langley
Furnace replacement Vancouver
In many cases, you may need to relocate your gas furnace. To replace gas furnaces you need to remove the old connections and install new connections. This point alone shows that the process of moving the process is completely specialized and must be done by experts.
Our certified and experienced gas fitters, are super experienced  in Furnace installation in Vancouver. We install all Furnace makes and models, give us a call if you are planning to get rid of your old furnace and put new high efficiency one in. We will drop by with free in home consultation.