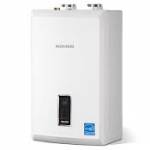 Boiler repair Port Moody
Our certified gas fitters and Boiler repair technicians are fixing all Boiler Makes and Models in Port Moody
Efficient Heating Services offers 24/7 Emergency Boiler repair in Port Moody. There is no limitation for our certified Gas Fitters, they are dealing with Boiler problems every day !
an old style Boiler ( Mid efficiency) or new high efficiency Boilers they do repair , Service and install all!
get in touch with our technicians at our 24/7 open line if you need boiler repair in Port Moody
for  Service or replacement and get free estimate and advise
Gas boiler installation by efficient heating service expert technicians
A boiler is a closed tank in which water vapor is created by the heat of fuel combustion for use outside. Inside the boiler, there are two parts: fire and water. All internal and pressurized parts of a boiler are made of iron alloys. The boiler is divided into two cast iron and steel models in terms of material type. Cast iron boiler is made to create low pressure . But most boilers and spa boilers are of steel type.
Location and conditions of Boiler Installation
The boiler must be installed and operated in a place that has the necessary air for the system and also has enough space to clean it. The boiler is usually equipped with a suitable blower and can work without a chimney. But for better performance, the materials from combustion must be directed to the outside space, which is done by designing and installing a chimney with a suitable height.
The height of the boiler chimney depends on the conditions of your house. Locations such as nearby tall buildings, wind direction and other geographic factors will affect the height of the chimney.
The installation of the gas boiler and its related equipment should be done by skilled and skilled people in order to avoid accidents. Efficient heating service with professional and experienced personnel will perform the process of installation, cleaning, repair and service of your home boiler in the best way and in the shortest time. Dear customers' satisfaction is the first priority of efficient heating service.
To install the boiler, you must follow the manufacturer's technical instructions and safety instructions and technical standards. This work must be done by experts.
Boiler repair Port Moody, Parts and Components We Carry
Automatic Damper
Control Board
Control Module
Transformers
Relays
Zone Control Valves
Mixing Valves
Gas Control
Thermocouple
Pilot Assembly
Aqua Stats
Water Regulator
Back Flow Preventer
Expansion Tanks
Air Vents
Boiler repair Port Moody (Service , Maintenance , Cleaning , inspection) all makes and Models
Boiler Maintenance and inspection in Port Moody
– Ensure there are no clogs or blockages
– Inspect the chimney and exhaust vents
– Check function of pilot light or electric ignition
– Test for gas leaks and carbon monoxide issues
– Inspect all valves and fittings
– Check relief valves and emergency shut-off
Check the water quality
– Ensure all gauges are working properly
– Make sure the boiler is free of rust and corrosion
– Inspect fittings and valves
– Estimate remaining life of the boiler
– and Much More
we cover all greater Vancouver and Fraser Valley for Boiler Services
Boiler replacement in Port Moody
Call Efficient Heating Services for Boiler repair , Service and install inPort Moody , if you have any Question regarding replacing Your Boiler  , we Carry all Boiler Makes and Models we will drop by with free consultation at your home and explain everything in detail